01.04.2013 | Original Paper | Ausgabe 4/2013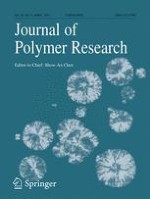 Synthesis of a novel alkaline-developable photosensitive copolymer based on MMA, MAA, SM, and 2-HEMA-grafted GMA copolymer for an innovative photo-imageable dry-peelable temporary protective plastisol
Zeitschrift:
Autoren:

Sheng Chang, Jian-He Yang, Jung-Hsien Chien, Yu-Der Lee
Wichtige Hinweise
Sheng Chang and Jian-He Yang with equal contributions
Abstract
Methyl methacrylate, methacrylic acid, styrene and 2-hydroethyl methacrylate were used to synthesize copolymer with carboxylic acid group through free-radical polymerization to develop a prepolymer(PMMSH). Glycidyl methacrylate was then added to react with carboxylic acid groups of PMMSH to form photosensitive copolymer PMMSHgG. Nuclear magnetic resonance and infrared were used to confirm the structures and functional group of the prepolymer and the copolymer while GPC was employed to determine the molecular weight. The sensitivity and resolution of the copolymers were obtained through characteristic exposure curve and SEM observation, respectively. PMMSHgG was also mixed with dry-peelable plastisol, acrylic acid monomer, and photoinitiator to form a photo-imageable dry-peelable plastisol. A suitable peelable composition without scum after UV exposure and post-baking was identified.