11.05.2018 | Original Paper | Ausgabe 9-11/2018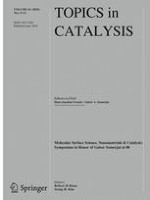 Synthesis of Chiral Dendrimer-Encapsulated Nanoparticle (DEN) Catalysts
Zeitschrift:
Autoren:

Zhihuan Weng, Francisco Zaera
Wichtige Hinweise
Contribution for the Special Issue honoring Prof. Gabor A. Somorjai.
Abstract
Several synthetic strategies were developed for the preparation of chiral dendrimer-encapsulated Pt nanoparticle (Pt DEN) catalysts. In one approach, regular OH-terminated polyamidoamine (PAMAM) dendrimers were first derivatized with cinchonidine using "click" chemistry and sebacic acid as a linker. As many as half of the 64 terminal OH groups in a 4th generation PAMAM dendrimer could be modified this way, and the overall cinchonidine content could be tuned by controlling the CD:PAMAM ratio during synthesis. Platinum nanoparticles were then added to these cinchonidine-modified dendrimers. In an alternative route, regular Pt DENs were made first using PAMAM, and the resulting material was then derivatized with cinchonidine. The two synthetic routes proved successful, but led to materials with different spectroscopic and catalytic properties, presumably because the metal nanoparticles in the first case are made near the cinchonidine functionality, in the outside of the dendrimer structure rather than in its inside, as believed to be the case with the second procedure. A potential complication related to the poisoning of the Pt nanoparticle surface during synthesis was also identified in the second protocol. The catalytic performance of these catalysts for the hydrogenation of α-ketoesters proved to be poor in all cases, presumably because of a number of problems associated with mass transport limitations inside the dendrimer structures and restricted flexibility of the outer chiral branches, which may not be able to interact with the catalytic surfaces. Nevertheless, interesting synthetic lessons were derived from our work with potential value for other applications.