01.04.2014 | Original Paper | Ausgabe 4/2014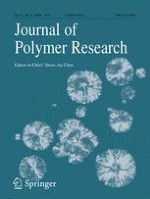 Synthesis of controlled molecular weight poly (β-malic acid) and conjugation with HCPT as a polymeric drug carrier
Zeitschrift:
Autoren:

Youbei Qiao, Xiao Duan, Li Fan, Wei Li, Hong Wu, Yukun Wang
Wichtige Hinweise
Youbei Qiao and Xiao Duan contributed equally to this work.
Abstract
Poly (β-malic acid) (PMLA) could be used as a polymeric drug carrier due to its biological properties. In this paper, different definite molecular weights of PMLA for use as a polymer drug carrier were synthesized by adjusting monomer/initiator ratio in polymerization reaction. The yield of benzyl-β-malolactonate (MLABz, the major intermediate product in synthesis of PMLA) increased from the earlier reported 12 % to 32 %; and the anti-tumor drug 10-hydroxycamptothecin (HCPT) was attached to the PMLA (Mw 13 kDa) backbone through a glycine linker. The conjugation efficiency and drug release characteristics of the conjugate were determined. HCPT release from PMLA–HCPT conjugates occurred at a faster rate at an acidic pH compared with neutral pH (7.4). After 16 h of incubation at pH 5.6, 6.8 and 7.4, the released HCPT was 76.8 %, 47.2 % and 18.1 %, respectively. Human colorectal cancer SW480 cells were used to investigate the cytotoxicity of PMLA–HCPT conjugates under different pHs in vitro. The cytotoxicity of conjugate was lower than that of free HCPT in physiological pH, while it was higher in the pH 6.8 buffer solution compared to pH 7.4, due to the release of free HCPT from the PMLA–HCPT conjugates by hydrolysis. It is implied that PMLA–HCPT conjugates could be used as a promising anti-tumor polymeric prodrug.