13.01.2016 | Original Paper | Ausgabe 8/2016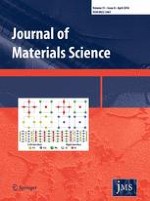 Synthesis of Cu2O nanowire mesocrystals using PTCDA as a modifier and their superior peroxidase-like activity
Zeitschrift:
Autoren:

Ga Long Li, Pei Ma, Yi Fan Zhang, Xiao Li Liu, Huan Zhang, Wei Ming Xue, Yu Mi, Yan E. Luo, Hai Ming Fan
Abstract
Cu
2
O nanowire mesocrystals (NWMCs), which possess well-defined octahedral morphology and high-porosity architecture with anisotropic interpenetrating nanowires, have attracted considerable attention owing to their superior physical and chemical properties. However, the current synthetic approach for Cu
2
O NWMCs using graphene oxide as modifier leads to uncontrollable products and low productivity (~30 %), which largely hinder their further industrial application. Herein, we report a modified synthetic approach for controllable and large-scale preparation of Cu
2
O NWMCs using perylene-3,4,9,10-tetracarboxylic dianhydride molecule as modifier. The effects of growth time and initial pH on the morphology of final products have been systemically investigated. Under the optimal reaction condition with initial pH of 5.3 and reaction time of 15 h, the well-defined octahedral Cu
2
O NWMCs can be obtained with a productivity as high as ~75 %. In addition, this synthetic approach can be easily scaled up from 50 to 500 mL autoclave. The ability of high productivity and reproducibility in synthesis of Cu
2
O NWMCs enable us to further study their peroxidase-like activity by catalyzing the oxidation of
o
-phenylenediamine in the presence of H
2
O
2
. The Cu
2
O NWMCs have exhibited a superior catalytic activity with the
K
cat
of 1.14 × 10
−2
, 10 times higher than that of horseradish peroxidase. Moreover, the Cu
2
O NWMCs can also retain 69.5 % of their initial activities after 10-batch redox reactions. Our results provide a facile approach to controllable and large-scale synthesis of Cu
2
O NWMCs using homogeneous molecule modifier and open up opportunities to use Cu
2
O NWMCs as nanozyme for future industrial application.