01.01.2015 | Original Paper | Ausgabe 1/2015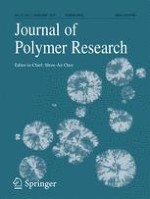 Synthesis of dithieno[2,3-
d

:2',3'-

d

']benzo[1,2-b:4,5-

b

']dithiophene -

alt

-isoindigo conjugated polymer and enhancement of photovoltaic property with diphenyl sulfide additives
Zeitschrift:
Autoren:

Yangjun Xia, Heng Zhang, Jianfeng Li, Junfeng Tong, Peng Zhang, Chunyan Yang
Abstract
An alternating low band gap conjugated polymer derived from 5.10-di(2-ethylhexyloxy)dithieno[2,3-
d
:2',3'-
d
']benzo[1,2-
b
:4,5-
b
']dithiophene (DTBDT) and isoindigo derivative (ID), was synthesized and characterized. The polymer exhibits good solubility in organic solvent and extensive absorption from 350 to 780 nm with the highest occupied molecular orbital (HOMO) level of −5.38 eV and lowest unoccupied molecular orbital (LUMO) level of −3.80 eV. In spite of those, the power conversion efficiency (PCE) of 0.21 % for the photovoltaic cells (PVCs) from the blend of the polymer and [6, 6]-phenyl-C
71
-butyric acid methyl ester (PC
71
BM) is very low. Interestingly, the performances of the PVCs from the polymer are remarkably increased while a very small amount of diphenyl sulfide (DPS) is used as solvent additives, and the maximal PCE of 4.43 % is achieved in the PVCs from the blend of polymer and PC
71
BM (W:W, 1:1.5) with DPS as solvent additives under 100 mW/cm
2
illumination (AM 1.5G).