22.08.2018 | Original Paper: Nano-structured materials (particles, fibers, colloids, composites, etc.) | Ausgabe 1/2018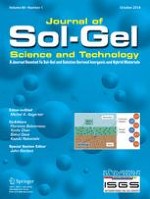 Synthesis of highly efficient Co3O4 catalysts by heat treatment ZIF-67 for CO oxidation
Zeitschrift:
Autoren:

Ning Liu, Mengqi Tang, Chuwen Jing, Wenyuan Huang, Pin Tao, Xiaodong Zhang, Jianqiu Lei, Liang Tang
Wichtige Hinweise
Electronic supplementary material
Abstract
The present work reported the porous rhombic dodecahedral Co3O4 catalysts undergoing ZIF-67 calcination in air condition at different temperatures. The structural and textural properties of the obtained catalysts were fully characterized using scanning electron microscope (SEM), transmission electron microscopy (TEM), X-ray diffraction (XRD), N2 adsorption–desorption, and X-ray photoelectron spectroscopic (XPS). H2-temperature-programmed reduction (H2-TPR) was used to test their redox properties. Both surface structure and morphology of Co3O4 catalysts exhibited good correlation with their catalytic activity. The results demonstrated that the catalyst calcined at 500 °C (Co3O4-500) exhibited the best performance with respect to the complete CO conversion temperature at 115 °C. This finding was reproducible and tentatively attributed to the unique structure, higher amount of surface Co2+ and adsorbed oxygen species, and good low-temperature reduction behavior. Finally, the effect of water vapor on catalytic activity was also determined, which indicated that the addition of water vapor to the feedstock had a negative effect on CO conversion over Co3O4-500.
×