18.05.2017 | Ausgabe 17/2017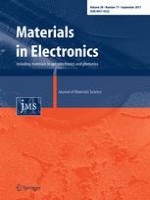 Synthesis of isoniazid substituted pyrene (PINHy), and investigation of its optical and electrochemical features as tunable/flexible OLEDs
Autoren:

Serkan Sayin, Songül Fiat Varol, Ziya Merdan, Serkan Eymur
Abstract
A new pyrene derivative substituted with isoniazid was synthesized via a simple Schiff base formation reaction, and its structure was characterized by using
1
H-NMR,
13
C-NMR, APT-NMR and elemental analysis techniques. Isoniazid-substituted pyrene (
PINHy
) was used as an emitting layer (EML) in the fabrication of new organic light-emitting diodes (OLEDs) consisted of bilayer or quaternary-layer system. We only used a hole transfer layer (HTL) and EML for the construction of the OLED device with bilayer system, while the OLED device with quaternary-layer system contained a combination of hole injection layer, HTL, EML and electron transfer layer. The optical and electrochemical properties of these materials were also examined. The results indicated that the OLED devices with quaternary-layer and bilayer system using isoniazid-substituted pyrene (
PINHy
) as EML showed efficient electroluminescent properties with the brightness of 906 and 864 cd/m
2
at 11 V, the power efficiencies of 2.8 and 2.47 Im/W, and the external quantum efficiencies of 7.3 and 8.1% at 6.0 V, respectively.