30.09.2016 | Original Paper | Ausgabe 5/2017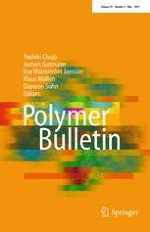 Synthesis of isotactic poly[α-(hydroxymethyl)acrylate] by anionic polymerization of the protected monomer
Zeitschrift:
Autoren:

Yasuhiro Kohsaka, Kazuki Yamamoto, Kazuha Suzawa, Tatsuki Kitayama
Abstract
Isotactic poly[methyl α-(hydroxymethyl)acrylate] was prepared via anionic polymerization of the respective monomer protected with trimethylsilyl group (
1-TMS
) initiated with isopropyl α-lithioisobutyrate (Li-
i
PrIB) in toluene at −78 °C. The polymerization proceeded in high isotactic specificity similarly to the case of α-(alkoxymethyl)acrylate, although the monomer conversion was low (~18 %) due to the self-terminating reaction accompanying the elimination of trimethylsilanolate anion. The monomer conversion could be improved to ca. 75 % in the polymerizations with an excess amount of LiOSiMe
3
, which would interact with and stabilize the propagating species to suppress the self-terminating reaction. This was a sharp contrast to the polymerization of α-(methoxymethoxymethyl)acrylate (
1-MOM
), an acetal protected monomer, where the addition of LiOSiMe
3
enhanced the self-termination. Consequently, the structure of protective group affects the polymerization behavior. For the resulting
poly(1-TMS)
, the deprotection by acid hydrolysis quantitatively afforded isotactic poly[methyl α-(hydroxymethyl)acrylate].