08.05.2018 | Original Paper: Nano-structured materials (particles, fibers, colloids, composites, etc.) | Ausgabe 1/2019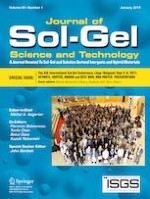 Synthesis of lamellar mesostructured phenylene-bridged periodic mesoporous organosilicas (PMO) templated by polyion complex (PIC) micelles
Zeitschrift:
Autoren:

Albane Birault, Emilie Molina, Carole Carcel, John Bartlett, Nathalie Marcotte, Guillaume Toquer, Patrick Lacroix-Desmazes, Corine Gerardin, Michel Wong Chi Man
Wichtige Hinweise
Highlights
Phenylene-bridged PMO structured by polyion complex micelles

The PMO demonstrated lamellar mesostructure with inter-lamellae distance of 15 nm

Molecular-scale (

d

 = 7.6 Å) structural periodicity demonstrated
Abstract
Periodic mesoporous organosilicas (PMOs), obtained by the surfactant-mediated hydrolysis-condensation of bridged organosilanes, combine versatile organic functionalities with advantages of a stable inorganic framework. Here, we introduce a novel synthesis of lamellar mesostructured phenylene-bridged PMOs templated by polyion complex (PIC) micelles (PICPMOs). The micelles assemble by electrostatic interactions between oppositely charged polyelectrolytes, with one being part of a double-hydrophilic block copolymer (DHBC), and the other being a polybase oligochitosan (OC). The PICPMO material was characterized by a range of techniques, including TEM, IR spectroscopy, SAXS, TGA and elemental analysis, which indicate
s
that the material exhibits long-range ordering with an inter-lamellae distance of around 15 nm. Advantages of the synthetic approach developed, together with potential applications of the PICPOs, are discussed.
×