01.10.2016 | ORIGINAL PAPER | Ausgabe 10/2016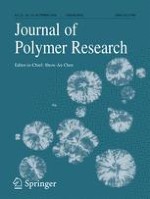 Synthesis of magnetic particles with well-defined living polymeric chains via combination of RAFT polymerization and thiol-ene click chemistry
Zeitschrift:
Autoren:

Rongrong Liu, Ping Zhang, Honglian Dai
Wichtige Hinweise
Electronic supplementary material
The online version of this article (doi:
10.​1007/​s10965-016-1113-3
) contains supplementary material, which is available to authorized users.
Abstract
Magnetic polymer particles have attracted large attention, due to their potential applications in biomedical field such as drug delivery, protein adsorption, magnetic resonance imaging and etc. A combinatorial method based on reversible addition fragmentation chain transfer (RAFT) polymerization and thiol-ene click chemistry was adopted to synthesize magnetic core-shell polymer hybrids. Well-defined poly (N-isopropylacrylamide) with trithiocarbonate moieties (PNIPAAm-CTA) was designed by RAFT polymerization and then was reduced to thiol-end polymers (PNIPAAm-SH). On the other hand, the magnetic particles (Fe3O4) were prepared by hydrothermal method, modified with silane coupling agent (KH-550) and acrylic acid to introduce vinyl group (−CH = CH2) onto the inorganic surface. Then the Fe3O4-g-PNIPAAm particles were synthesized by using thiol-ene click chemistry. The chemical composition, surface morphology, core-shell structure were characterized by a series of techniques such as Fourier transform infrared (FT-IR) spectroscopy, X-ray diffraction (XRD), thermogravimetric analysis (TGA), X-ray photoelectron spectroscopy (XPS), transmission electron microscopy (TEM), dynamic light scattering (DLS) and vibrating sample magnetometer (VSM). The results showed that the as-synthesized composite iron oxide particles owned thermoresponsive behaviors and superparamagnetic properties. And, the superparamagnetic thermoresponsive particles with high magnetization might be potential ideal candidates for biomedical field.