01.07.2016 | Brief Communication: Nano- and macroporous materials (aerogels, xerogels, cryogels, etc.) | Ausgabe 1/2016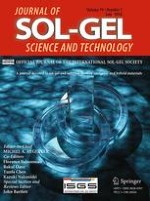 Synthesis of mesoporous TiO2 and its role as a photocatalyst in degradation of indigo carmine dye
Zeitschrift:
Autoren:

Devendra Ahirwar, Mustri Bano, Farid Khan
Abstract
A modified sol–gel route without the use of acid or base was used to synthesize mesoporous TiO
2
catalyst which was characterized by powder X-ray diffraction, scanning electron microscopy, transmission electron microscopy, atomic force spectroscopy, optical absorption spectroscopy and Brunauer–Emmett–Teller adsorption isotherm technique. The synthesized mesoporous TiO
2
is highly crystalline, pure and consisting of very high porosity and surface area 226.25 m
2
g
−1
. The catalyst showed an excellent photocatalytic activity against the degradation of indigo carmine in the presence of visible light. It was found that 50 mL dye solution of 4 × 10
−5
M concentration has been completely degraded and decolorized with optimum catalyst dose of 1.5 g/L in 180 min, acidic pH and at 25 ± 1 °C reaction temperature. The reaction kinetic was studied, and it was found that the indigo carmine dye photocatalytic degradation followed pseudo first-order reaction kinetics with rate constant,
k
of 0.007 min
−1
. Degradation of dye was confirmed by chemical oxygen demand analysis and UV–Vis spectrophotometry.
Graphical Abstract
×