01.03.2015 | Original Paper | Ausgabe 3/2015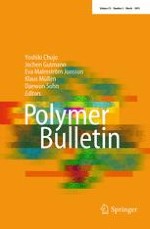 Synthesis of novel branched UV-curable methacrylate copolymer and its application in negative photoresist
Zeitschrift:
Autoren:

Jingcheng Liu, Xiangfei Zheng, Hu Li, Ren Liu, Qidao Mu, Xiaoya Liu
Abstract
A series of novel branched methacrylate copolymers (BPMBMV) were synthesized via the mercapto chain transfer polymerization using methacrylic acid, maleic anhydride, benzyl methacrylate, and 4-vinyl benzyl thiol. Then, BPMBMV reacted with hydroxyethyl acrylate to obtain branched UV-curable copolymer H-BPMBMV, which were characterized by fourier transfer infrared spectra and proton nuclear magnetic resonance spectra. The molecular weights and glass transition temperature (
T
g
) of the polymers decreased with the addition of VBT. The results of photo-differential scanning calorimetry (Photo-DSC) tests showed that photo-polymerization ability of H-BPMBMV increased with the increased content of VBT. With an optimized formulation, a negative-type photoresist was prepared. The resolution of the circuit could reach as high as 20 μm, and the film of photoresist showed good acid resistance.