05.09.2017 | Energy materials | Ausgabe 1/2018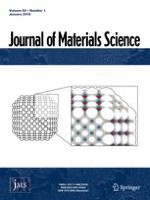 Synthesis of poly(
m

-phenylenediamine)-coated hexagonal Co9S8 for high-performance supercapacitors
Zeitschrift:
Autoren:

Ping Liu, Xing Chang, Jingjing Lin, Song Yan, Lu Yao, Jun Lian, Hualin Lin, Sheng Han
Wichtige Hinweise
Electronic supplementary material
The online version of this article (doi:
10.​1007/​s10853-017-1537-0
) contains supplementary material, which is available to authorized users.
Abstract
Poly(
m
-phenylenediamine)-coated hexagonal Co
9
S
8
was firstly synthesized by the polymerization with self-prepared hexagonal Co(OH)
2
used as cobalt source, and the calcination with sulfur powder providing sulfur source. By adjusting the concentration of
m
-phenylenediamine in the polymerization process, the coating was achieved with the different coated results, further affecting their supercapacitor behaviors by improving diffusion path for fast electron transfer. The resulting Co
9
S
8
/PmPD electrodes demonstrate excellent electrochemical performance with high specific capacitance of 950.1 F g
−1
at a current density of 0.5 Å g
−1
, good rate performance of 81.1% capacitance retention as the current density grows from 0.5 to 20 Å g
−1
, and almost no capacitance loss after 1000 cycles. Moreover, as asymmetric positive electrode material, the Co
9
S
8
/PmPD-1 shows high specific capacitance of 115.3 F g
−1
at 0.5 Å g
−1
, outstanding rate performance of 78.2% capacitance retention even increased to 20 Å g
−1
, superior cycle stability of 87.9% capacitance retention after 5000 cycles at 2 Å g
−1
and largest energy density of 36.0 W h kg
−1
at power density of 374.67 W kg
−1
. This novel Co
9
S
8
/PmPD composite suggests a bright prospect for supercapacitor applications.