01.12.2009 | Original Contribution | Ausgabe 12/2009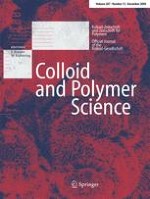 Synthesis of poly(methyl methacrylate)-
block

-poly(tetrahydrofuran) by photo-living radical polymerization using a 2,2,6,6-tetramethylpiperidine-1-oxyl macromediator
Zeitschrift:
Autor:

Eri Yoshida
Abstract
The synthesis of a poly(methyl methacrylate)-
block
-poly(tetrahydrofuran) (PMMA-
b
-PTHF) diblock copolymer was attained by the photo-living radical polymerization of methyl methacrylate using 2,2,6,6-tetramethylpiperidine-1-oxyl (TEMPO) supported on the chain end of poly(tetrahydrofuran) (PTHF) as the macromediator. The polymerization was performed at room temperature by 2,2′-azobis(4-methoxy-2,4-dimethylvaleronitrile) as an initiator in the presence of bis(alkylphenyl)iodonium hexafluorophosphate as a photo-acid generator to produce the diblock copolymer consisting of poly(methyl methacrylate) (PMMA) and PTHF blocks connected through the TEMPO. The polymerization was confirmed to proceed in accordance with a living mechanism based on linear correlations for three different plots of the first order time-conversion, the molecular weight of the copolymer versus the monomer conversion, and the molecular weight versus the reciprocal of the initial concentration of the initiator. The molecular weight distribution of the block copolymer was dependent on the molecular weight of the macromediator based on the miscibility of PMMA and PTHF.