01.01.2014 | Original Paper | Ausgabe 1/2014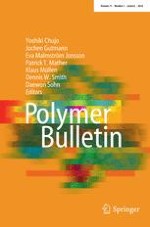 Synthesis of poly(urea–formaldehyde) encapsulated dibutyltin dilaurate through the self-catalysis of core materials
Zeitschrift:
Autoren:

Li Yuan, Feng Chen, Aijuan Gu, Guozheng Liang, Chao Lin, Sidi Huang, Steven Nutt, Guoqiang Chen, Yongming Gao
Abstract
Polymeric microcapsules (MCs) filled with catalyst can be controlled to release the catalyst to initiate the polymerization reaction. In the present work, poly(urea–formaldehyde) (PUF) MCs filled with DBTDL (PUF/DBTDL MCs) were prepared using urea (U) and formaldehyde (F) as the wall shell materials by in situ polymerization. The U–F resins could easily polymerize in the presence of the core material DBTDL to produce PUF polymers, then they deposited on the surface of the DBTDL droplets, forming PUF/DBTDL MCs. The decomposition temperature (
T
d
) at 5 % weight loss of PUF/DBTDL MCs was about 245 °C. The application of PUF/DBTDL MCs to cyanate ester resins preliminarily showed the reaction control capability of the MCs due to the slow release of DBTDL through the wall shell.