01.06.2015 | Original Paper | Ausgabe 6/2015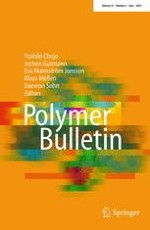 Synthesis of poly(vinyl alcohol-
graft

-lactic acid) copolymer and its application as medical anti-tissue adhesion thin film
Zeitschrift:
Autoren:

Caihua Ni, Ronghui Lu, Lei Tao, Gang Shi, Xuejun Li, Changhu Qin
Abstract
Graft copolymers of poly(vinyl alcohol-
g
-lactic acid) (PVA-
g
-PLA) were synthesized through a direct polycondensation of
d,l
-lactic acid grafting from polyvinyl alcohol (PVA) using 1-ethyl-(3-dimethylaminopropyl) carbodiimide hydrochloride (EDC·HCl) as the catalyst. The molecular weights of the graft copolymers varied from 98,000 to 106,000, which were determined by gel permeation chromatography. It was observed that the glass transition temperatures of the copolymers decreased with the increase of lactic acid units in the copolymers. Thin films with the thickness of 0.04–0.06 mm were prepared using the copolymers. The films showed improved hydrophilicity and flexibility compared with PLA homopolymer. Small pieces of the films were implanted under the skin of mice for anti-tissue adhesion purpose. The films demonstrated good anti-tissue adhesion behavior and suitable degradability in the mouse body. The graft copolymers were non-toxic, flexible, blood compatible, non-cytotoxic and had potential applications as a medical anti-tissue adhesion agent.