01.01.2015 | Research Paper | Ausgabe 1/2015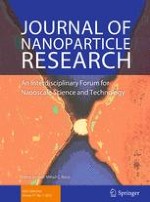 Synthesis of polystyrene@(silver–polypyrrole) core/shell nanocomposite microspheres and study on their antibacterial activities
Zeitschrift:
Autoren:

Longhai Guo, Shanshan Ren, Teng Qiu, Leilei Wang, Jiangru Zhang, Lifan He, Xiaoyu Li
Wichtige Hinweise
Electronic supplementary material
The online version of this article (doi:
10.​1007/​s11051-014-2836-x
) contains supplementary material, which is available to authorized users.
Abstract
We reported the synthesis of polystyrene@(silver–polypyrrole) (PS@(Ag–PPy)) nanocomposite microspheres with the well-defined core/shell structure, in which the functionalized PS microspheres by the sulfonic acid groups were employed as template. The diameter of the synthesized PS microsphere template and AgNP was 1.26 μm and 50 nm, respectively. In order to well control the redox reaction between Ag
+
and Py monomer and to avoid the accumulation of these AgNPs during synthesis process, the complexation of triethanolamine (TEA) and silver ion ([Ag(TEA)
2
]
+
) was employed as the oxidant, so that the generation rate of AgNPs was in turn decreased. Moreover, compared with the redox reaction between AgNO
3
and Py, the introduction of [Ag(TEA)
2
]
+
ions resulted in the improved coverage and distribution of AgNPs around the surface of PS microspheres. Meanwhile, the loading amount of Ag–PPy nanocomposites on the final microspheres was adjustable. The increasing concentrations of Py monomer and [Ag(TEA)
2
]
+
ions resulted in the increase of Ag–PPy nanocomposite loading. The results of antibacterial experiment suggested that the synthesized PS@(Ag–PPy) composite microspheres showed the prominent antibacterial properties against both the Gram-negative bacteria of
Escherichia coli
and the Gram-positive bacteria of
Staphylococcus aureus
. For the bacteria with concentration at 1 × 10
5
– 9×10
5
cfu/mL, the microspheres can kill the bacteria above 3-log reduction with the concentration of PS@(Ag–PPy) composite microspheres at 50 μg/mL, in which the weight fraction of Py in the composite microspheres was above 10 wt%. When the weight fraction of Py in the composite microspheres was at 5 wt%, the 2-log reduction of in bacterial viability could also be obtained.
Graphical Abstract
×