01.10.2011 | Ausgabe 7/2011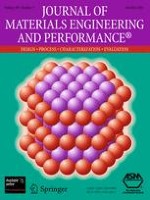 Synthesis of SnFe2O4 Nanomaterials Via High Energy Ball Milling of SnO (Stannous) and α-Fe2O3 (Hematite) Solid Precursors
Zeitschrift:
Autoren:

Oswald N. C. Uwakweh, Rita Más, Carolyn Morales, Pedro Vargas, Josue Silva, Angel Rosa, Neshma Lopez, Richard Perez Moyet, Yenny Cardona
Abstract
The synthesis of single phase tin-ferrite, SnFe
2
O
4
, from tin (II) oxide or stannous oxide (SnO), and hematite (α-Fe
2
O
3
) solid precursors was carried out via high energy ball milling (HEBM) under wet condition involving the addition of controlled amounts of acetone. The stoichiometric amounts of the precursor materials were ball milled continuously for up to 22 h in a Spex-8000D mill using a ball-to-powder ratio of 40:1, with hardened stainless steel balls in WC-lined jars. The time-dependent formation of the SnFe
2
O
4
based on combined X-ray diffraction and room temperature Mössbauer spectroscopy (MS) measurements revealed reaction enhancements associated with particles size reduction. The 22 h milled material indicated that synthesized SnFe
2
O
4
had a particle size of 10.91 nm, coercivity of 4.44 mT, magnetic saturation/remanent ratio (
M
r
/
M
s
) of 0.085, while its superparamagnetic behavior was confirmed based on the combined MS and vibrating sample magnetometer measurements.