04.05.2016 | Original Paper | Ausgabe 15/2016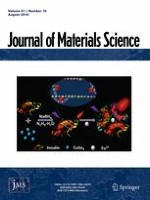 Synthesis of starch nanoparticles in a novel microemulsion with two ILs substituting two phases
Zeitschrift:
Autoren:

Guangyin Ji, Zhigang Luo, Zhigang Xiao, Xichun Peng
Abstract
A novel ionic liquid microemulsion composed of 1-octyl-3-methylimidazolium bis ((trifluoromethyl)sulfonyl)imide ([Omim]NTf
2
, an ionic liquid), water, surfactant 1-hexadecyl-3-methylimidazolium bromide ([C
16
mim]Br, an ionic liquid), and cosurfactant
n
-butyl alcohol was prepared in our study. Pseudo-ternary phase diagram, conductivity measurement, and dynamic light scattering (DLS) analysis identified the microregion of microemulsion and confirmed the formation of water-in-ionic liquid (W/IL) region. Starch nanoparticles were prepared in the W/IL microemulsion with epichlorohydrin as cross-linker. Fourier transform infrared spectroscopy and X-ray diffraction characterized the structure of starch nanoparticles and demonstrated that cross-linking reaction happened among starch molecules. Scanning electron microscopy intuitively revealed that starch nanoparticles were spherical granules with smooth surface and fine dispersibility. Also, starch nanoparticles with a mean diameter of 93.2 nm and relatively concentrated size distribution were confirmed by DLS.