05.07.2019 | Energy materials | Ausgabe 19/2019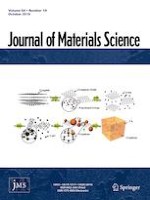 Synthesis of uniform silica nanospheres wrapped in nitrogen-doped carbon nanosheets with stable lithium-ion storage properties
Zeitschrift:
Autoren:

Jinxiang Mao, Minmin Chen, Yichen Deng, Hong Liu, Zhicheng Ju, Zheng Xing, Xichuan Cao
Wichtige Hinweise
Electronic supplementary material
Publisher's Note
Springer Nature remains neutral with regard to jurisdictional claims in published maps and institutional affiliations.
Abstract
Silica is one of the most abundant resources on the earth, attracting widespread attention in the new energy field. Due to the high theoretical specific capacity and stable physicochemical properties, silica is considered as potential anode materials for lithium-ion batteries (LIBs). However, the main drawbacks for silica materials are the poor electronic conductivity and large volume expansion effect in the lithium insertion and deinsertion process, which cause material pulverization and the decline in capacity. In this work, a new type of nitrogen-doped carbon nanosheets/silica composites (NCSCs) is successfully fabricated via a facile synthesis strategy, whose advantage of this method is the simultaneous completion of nitrogen doping and carbon nanosheets coating in one step. Besides, silica nanospheres with controllable and uniform particle size are utilized to explore lithium storage performance of the silica-based composites by comparing the difference in lithium storage performance of silica nanospheres with different particle sizes. Specifically, the large specific capacity of silica combines with the excellent conductivity of carbon nanosheets, providing the superior electrochemical performance for the NCSCs. Consequently, the NCSCs 1 exhibits a reversible specific capacity of 254.6 mAh g−1 after the 500th cycle at 2 A g−1. The above results fully indicate that the NCSCs are a potential anode material for LIBs.