01.07.2019 | Metals & corrosion | Ausgabe 19/2019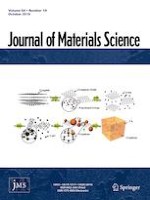 Synthesis, structure and properties of Pd@MOF-808
Zeitschrift:
Autoren:

Jiong Xu, Jin Liu, Zhen Li, Xianbiao Wang, Zhuo Wang
Wichtige Hinweise
Publisher's Note
Springer Nature remains neutral with regard to jurisdictional claims in published maps and institutional affiliations.
Abstract
The core–shell structure and penetrated structure of Pd-modified metal organic frameworks MOF-808 series materials (named as Pd@MOF-808) are successfully synthesized using Zr(IV) as centron ion, trimesic acid as ligand and Pd as modifier by simple solution method. The structure control and properties of Pd@MOF-808 are characterized by XRD, FT-IR, TEM, XPS, UV–Vis, specific surface area measurement, thermogravimetric analysis, photocatalytic hydrogen production and hydrogen storage testing. The results show that the synthesized Pd nanoparticles have been successfully introduced into the cavity and channel of MOF-808, and the structure of Pd@MOF-808 series materials could remain stable at 350 °C. Photocatalytic hydrogen production experiments exhibit the highest hydrogen production of Pd@MOF-808-b (236 μmol g
−1
 h
−1
). More importantly, the results of the adsorption experiment show that the hydrogen storage capacities of the as-prepared 10 wt% Pd@MOF-808-b could reach 2.61 wt%, 5.04 wt% and 8.20 wt% under 4 MPa at 300 K, 195 K and 77 K, respectively. Furthermore, thermodynamic analysis shows that the maximum hydrogen adsorption enthalpy of Pd@MOF-808-b up to
−
 1.378 kJ mol
−1
indicates excellent potential for hydrogen storage and application.