2013 | OriginalPaper | Buchkapitel
9. Synthesis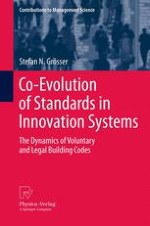 Erstes Kapitel lesen
Autor: Stefan N. Grösser
Verlag: Physica-Verlag HD
Abstract
The main contributions of the book are developed in
Chaps.​ 5
,
6
,
7
, and
8
. The integration of the results of these chapters helps in arriving at the quantitative feedback model and policy analysis of
Chap.​ 6
.
Chapter 5
has created the qualitative-conceptual base.
Chapter 7
contributed frameworks and a heuristic to the available validation methodology of system dynamics. These means of validation have supported the model development and increased its level of validity.
Chapter 8
has created a measure of dynamic complexity to ensure that the model in
Chap.​ 6
indeed captures that dimension. Besides the individual contributions of the previous chapters,
Chap.​ 9
now relates selected contributions of the book to existing fields of research. In addition, it abstracts from the case study and develops a generic model about the co-evolution of norms.
Chapter 9
thereby provides hypotheses as a means to advance existing research. From a methodological perspective, this chapter also conceptualizes a modular and generic piece of simulation structure (molecule) which can be reused in modeling nonlinear behavioral-decision rules.