2017 | OriginalPaper | Buchkapitel
SysPRE - Systematized Process for Requirements Engineering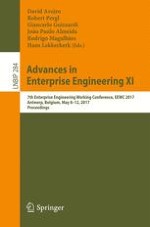 Erstes Kapitel lesen
Autoren: Ana Neto, Duarte Pinto, David Aveiro
Abstract
The domain of Knowledge Discovery (KD) and Data Mining (DM) is of growing importance in a time where more and more data is produced and knowledge is one of the most precious assets.
Having explored both the existing underlying theory, the results of the ongoing research in academia and the industry practices in the domain of KD and DM, it was found that this is a domain that still lacks some systematization.
It was also noticed that this systematization exists to a greater degree in the Software Engineering and Requirements Engineering domains, probably due to being more mature areas.
In this paper we propose SysPRE - Systematized Process for Requirements Engineering in KD projects to systematize the requirements engineering process for these projects so that the participation of enterprise stakeholders in the requirements engineering for KD projects can increase.