2011 | OriginalPaper | Buchkapitel
9. Systematic Approach for Site-Specific Engineering of ISCO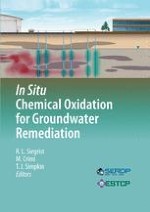 Erstes Kapitel lesen
Autoren: Michelle Crimi, Thomas J. Simpkin, Tom Palaia, Benjamin G. Petri, Robert L. Siegrist
Verlag: Springer New York
Scope
A systematic engineering approach for effective screening, design, and implementation of
in situ
chemical oxidation (ISCO).
Key Concepts
A systematic engineering approach can increase the probability that an ISCO project will achieve remediation goals and objectives in a successful manner.

The applicability of ISCO to a contaminated site, as well as the appropriate oxidant and delivery approaches, depend on site conditions and treatment goals, for which ISCO can be screened accordingly. A well-defined Conceptual Site Model will help guide ISCO Screening.

To improve treatment efficiency and effectiveness, coupling ISCO with other technologies and approaches with respect to space (e.g., downgradient approaches) or time (e.g., post-ISCO natural attenuation) should be considered for most ISCO applications.

A tiered approach to the Conceptual Design of an ISCO system can guide site-specific data collection to optimize treatment and cost effectiveness.

Final system design and implementation planning will depend on the contracting approach employed.

Using the Observational Method for ISCO operations and performance monitoring will guide design optimization and can improve treatment effectiveness.