10.09.2018 | Original Paper | Ausgabe 10/2018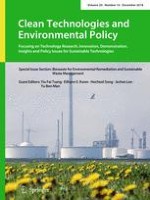 Systematic retrofit procedure for resource conservation network based on pinch analysis technique
Zeitschrift:
Autor:

Dominic C. Y. Foo
Abstract
Over the past two decades, various
process integration
tools have been developed for the synthesis of material
resource conservation network
(RCN), ranging from
pinch analysis
and
mathematical programming
techniques. Note, however, that most of these techniques were developed for
grassroots
design problems. In other words, the process plants are still at the design stage where the RCN does not exist yet. The grassroots design techniques are not directly applicable for existing process plants that are in operation. For the latter, some degrees of resource conservation may have been in place, though the RCNs of these process plants may not be designed systematically. Hence, this calls for the development of a systematic
retrofit
procedure in order to reduce both fresh resource and waste discharge flowrates for the process plants. In this work, a three-step procedure based on pinch analysis is proposed for the retrofit of existing RCNs, focusing on direct reuse/recycle scheme for single contaminant problems. A new analysis tool known as the
load
–
flowrate diagram
is proposed for the analysis of impurity load received by the material sinks. This tool helps to identify suitable sinks where unutilised sources may be recovered to. Besides, a revised
nearest neighbour algorithm
is proposed for the revamping of sink-source matches in the RCN. Several literature examples involving water and hydrogen networks are solved to elucidate the newly proposed procedure.