31.10.2016 | Ausgabe 2/2017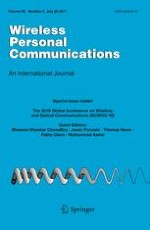 (
t

,

n

) Multi-Secret Sharing Scheme Based on Bivariate Polynomial
Zeitschrift:
Autoren:

Lein Harn, Ching-Fang Hsu
Wichtige Hinweise
L. Harn and C.-F. Hsu have been contributed equally to this work.
Abstract
In a (
t
,
n
) secret sharing scheme (SS), a dealer divides the secret into
n
shares in such way that any
t
or more than
t
shares can reconstruct the secre
t
but fewer than
t
shares cannot reconstruct the secret. The multi-SS is an extension of the (
t
,
n
) SS in which shares can be reused to reconstruct multiple secrets. Thus, the efficiency of the multi-SS is better than the efficiency of the (
t
,
n
) SS. In this paper, we propose the first multi-SS using a bivariate polynomial. Our design is unique in comparing with all existing multi-SSs. Shares generated using a bivariate polynomial can not only be used to reconstruct multiple secrets but also be used to establish pairwise keys between any pair of shareholders. The pairwise keys can protect exchange information in the secret reconstruction to prevent outsiders from obtaining the recovered secrets. All existing multi-SSs require additional key establishment to accomplish this.