13.06.2019 | Ausgabe 2/2020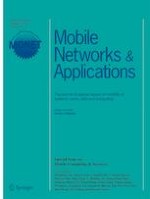 Task Allocation in Semi-Opportunistic Mobile Crowdsensing: Paradigm and Algorithms
Zeitschrift:
Autoren:

Wei Gong, Baoxian Zhang, Cheng Li, Zheng Yao
Wichtige Hinweise
Publisher's Note
Springer Nature remains neutral with regard to jurisdictional claims in published maps and institutional affiliations.
Abstract
Mobile crowdsensing paradigms can be categorized into two classes: opportunistic sensing and participatory sensing, each of which has its advantage and disadvantage. The high flexibility of worker mobility in participatory sensing leads to high task coverage but also high worker employment fee. The little human involvement in opportunistic sensing results in low worker employment fee but also low task coverage. In this paper, we propose a new mobile crowdsensing paradigm, named semi-opportunistic sensing, aiming to achieve both high task coverage and low worker employment fee. In this paradigm, each worker can provide multiple candidate moving paths for his/her trip, among which the service platform chooses one for the worker to undertake task(s). The platform selects workers and assigns tasks to them with an objective to optimize total task quality under the platform's incentive budget and workers' task performing time constraints. In this paper, we formulate the task allocation problem, prove its NP-hardness, and present two efficient heuristic algorithms. The first heuristic, named Best Path/Task first algorithm (BPT), always chooses the best path and task in a greedy manner. The second heuristic, named LP-Relaxation based algorithm (LPR), assigns paths and tasks with the largest values according to the LP-relaxation. We conduct extensive experiments on synthetic dataset and real-life traces. Experiment results show that the proposed semi-opportunistic sensing paradigm can significantly improve total task quality compared with opportunistic sensing. Moreover, the experiment results also validate the high efficiency of our proposed task allocation algorithms.