2017 | OriginalPaper | Buchkapitel
6. Tax Law Components to Provide Incentives for Investment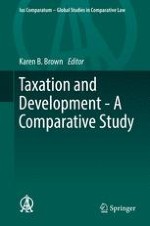 Erstes Kapitel lesen
Autoren: Michal Radvan, Dana Šramková
Abstract
Although the Czech Republic does not have a territorial tax regime, its participation exemption allows deferral of tax on income of certain foreign subsidiaries. With EU approval, the Czech Republic provides incentives to attract investment. These incentives support manufacturing, job creation, and employee training in the Czech Republic. There is special high withholding tax on dividends, interest, and royalties paid to off-shore tax haven jurisdictions. The Czech Republic is committed to information exchange and the latest standard of information exchange.
Synopsis
The Czech Republic, a member of the European Union (EU) since 2004, taxes its residents on their worldwide income, allowing a credit against Czech income tax liability for taxes paid to a foreign country (foreign tax credit). A corporation with a registered office or headquarters in the Czech Republic is subject to worldwide taxation. When a treaty applies, a foreign tax credit may be allowed under the full credit method (allowing a refund of taxes paid if the tax liability in the foreign country exceeds the Czech liability) or the ordinary credit method (allowing offset of the worldwide tax liability only for foreign tax computed on foreign source income at a rate no higher than the Czech effective rate). Some Czech treaties, such as the one with Brazil, follow the exemption method in which specified foreign source income (but not passive income) is exempted from taxation. The Czech Republic is signatory to more than 42 double taxation treaties. In the absence of a treaty, a deduction is allowed for foreign taxes paid which reduces the Czech tax base, but does not provide a dollar-for-dollar tax reduction.
Nonresidents are taxed only on income from Czech sources.
Although, the Czech Republic does not have a territorial tax regime, the operation of the EU Parent-Subsidiary Directive provides exemptions for dividends derived from profits earned abroad. The participation exemption, based on principles established in the Directive, allows for deferral of tax on the income of foreign subsidiaries (resident in EU member nations as well as Norway, Switzerland, and Iceland) as well as an exemption when the profits are returned to the Czech parent in the form of a dividend or other profit share. This regime also exempts from taxation payments from permanent establishments resident in any foreign country to tax non-residents.
One provision that may impact tax havens is the introduction of a withholding tax on dividends, interest, royalties paid to off-shore jurisdictions. In 2013, a special tax rate of 35 % was introduced for payments to taxpayers not resident in EU member states and to those resident in any other country that is not a signatory to certain treaties or international agreements (to which the Czech Republic is a party) that do not contain an acceptable exchange of information provision.
As a member of the EU and OECD, the Czech Republic participates in Harmful Tax Competition projects sponsored by these organizations. In particular, the EU Code of Conduct for Business Taxation, adopted in 1997. The Code of Conduct identifies potentially harmful tax measures, such as tax benefits reserved for non-residents, tax incentives isolated from the domestic economy, grant of tax advantages in the absence of real economic activity, and lack of transparency. Guidelines concerning restrictions on provision of State Aid, defined as any aid granted by a member state that distorts competition by favoring certain production or other undertakings. A subsequent EU Communication, adopted in 2004 and further detailed in 2009, identifies actions to be taken by member states to promote 'good governance' in tax matters. The Czech Republic also participates in the OECD's Global Tax Forum.
In addition to the double taxation treaties described above, the Czech Republic has also concluded seven Tax Information Exchange Agreements (TIEAs) with jurisdictions commonly identified as tax havens (Bermuda, British Virgin Islands, Jersey, Isle of Man, Bahamas. It is also signatory to the Convention on Mutual Administrative Assistance in Tax Matters (which has gained more than 60 signers). The Convention, which meets the OECD's latest standard, provides for all forms of administrative cooperation, including spontaneous, automatic, and "upon request" information exchange, concurrent inquiries, tax examination abroad, requests for enforcement, and document delivery. With EU approval, the Czech Republic offers incentives to attract domestic and foreign investment. These incentives relate to support of manufacturing, creation of jobs, and employee training. They may be provided only in the processing and servicing industries, technology (software) centres, and strategic service centers (accounting, finance, human resources administration, marketing, and information system management). Typically, a minimum level of investment is required. Application for these incentives, including tax relief, is made to Czechinvest through the Ministry of Industry and Trade, which makes the final determination. The Czech Republic has entered into a number of agreements with other countries for the promotion of reciprocal protection of investments, including a small number with developing countries.
The corporate tax rate is 19 % of net income. A reduced tax rate of 5 % is provided for domestic and foreign investment funds and retirement pension funds established in EU member states, Norway, and Iceland.