22.10.2017 | Sonderheft 1/2018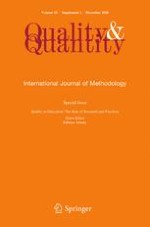 Teacher opinions regarding the perception management levels of school administrators
Zeitschrift:
Autoren:

Ali Aktepebasi, Zehra Altınay, Gokmen Dagli
Abstract
The purpose of this research is to determine the levels and use of perception management by school administrators. The study group consists of teachers working in Private Primary School and Secondary Schools affiliated to the Ministry of National Education in Nicosia, the Turkish Republic of Northern Cyprus in the 2016–2017 academic year. The sample of the study is composed of 282 teachers representing the universe selected by the method of easy reachable case sampling. As a means of collecting data in the survey, "Personal Information Form" by Kline (An easy guide to factor analysis, Routledge, New York,
1994
) and "Manager Perception Management ent Scale" developed by Uylas (Yönetici Algı Yönetimi Ölçeği, Türkiye Ölçme Araçları Dizini,
2017a
, Okul Yöneticilerinin Sosyal-Duygusal Eğitim Liderliği ve Algı Yönetimine İlişkin Öğretmen Görüşleri, T.C. Abant İzzet Baysal Üniversitesi, Eğitim Bilimleri Enstitüsü, Bolu,
2017b
) was used. The obtained data were analyzed in an analysis program. In the research, the values of perception management use levels of managers according to teacher opinions were examined. According to the results and comments obtained from the research, some of the proposals developed for researchers and educators working in the field of education management are as follows. Towards practical; trainings can be given on how school administrators can use perception management for successful perception management practices in educational organizations. In interviews to select school administrators, choosing school administrator with high perception management skills can be prioritized. Towards newstudies; including multidimensional evaluation of all elements of educational organizations such as managers, parents and servants in new researches to be conducted and comparison of teachers 'and administrators' views. This study has brought out suggestions that can be implemented in other stages of education.