2017 | OriginalPaper | Buchkapitel
Teaching Academic Concurrency to Amazing Students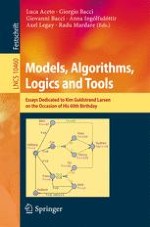 Erstes Kapitel lesen
Autoren: Sebastian Biewer, Felix Freiberger, Pascal Leo Held, Holger Hermanns
Abstract
Milner's CCS is a cornerstone of concurrency theory. This paper presents CCS as a cornerstone of concurrency practice. CCS is the semantic footing of
pseuCo
, an academic programming language designed to teach concurrent programming. The language features a heavily simplified Java-like look and feel. It supports shared-memory as well as message-passing concurrent programming primitives, the latter being inspired by the Go programming language. The behaviour of
pseuCo
programs is described by a formal translational semantics mapping on value-passing CCS and made executable using compilation to Java.
pseuCo
is not only a language but an interactive experience:
provides access to a web application designed for first hands-on experiences with CCS and with concurrent programming patterns, supported by a rich and growing toolset. It provides an environment for students to experiment with and understand the mechanics of the fundamental building blocks of concurrency theory and concurrent programming based on a complete model of the program behaviour. Altogether this implements the TACAS (Teaching Academic Concurrency to Amazing Students) vision.