2018 | OriginalPaper | Buchkapitel
6. Teaching Agents When They Fail: End User Development in Goal-Oriented Conversational Agents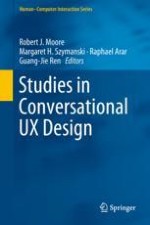 Erstes Kapitel lesen
Autoren: Toby Jia-Jun Li, Igor Labutov, Brad A. Myers, Amos Azaria, Alexander I. Rudnicky, Tom M. Mitchell
Abstract
This chapter introduces an end user development (EUD) approach for handling common types of failures encountered by goal-oriented conversational agents. We start with identifying three common sources of failures in human-agent conversations:
unknown concepts
,
out
-
of
-
domain tasks
and
wrong fulfillment means or level of generalization in task execution
. To handle these failures, it is useful to enable the end user to program the agent and to "teach" the agent what to do as a fallback strategy. Showing examples for this approach, we walk through our two integrated systems: S
ugilite
and L
ia
. S
ugilite
uses the programming by demonstration (PBD) technique, allowing the user to program the agent by demonstrating new tasks or new means for completing a task using the GUIs of third-party smartphone apps, while L
ia
learns new tasks from verbal instructions, enabling the user to teach the agent through breaking down the procedure verbally. L
ia
also enables the user to verbally define unknown concepts used in the commands and adds those concepts into the agent's ontology. Both S
ugilite
and L
ia
can generalize what they have learned from the user across related entities and perform a task with new parameters in a different context.