2011 | OriginalPaper | Buchkapitel
2. Teaching and Learning in a Social Software Development Tool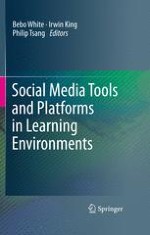 Erstes Kapitel lesen
Autoren: Hani Bani-Salameh, Clinton Jeffery
Verlag: Springer Berlin Heidelberg
Abstract
The best practices in the education of software developers require substantial interactions between educator and student, and between students in team projects. Because many students are remote, and colocated students often have different work schedules, their educational needs mirror the needs of distributed software developers. These needs include collaboration tools that replicate the benefits of face-to-face meetings, support real-time tasks such as pair programming, and facilitate asynchronous project-focused communication among team members. Software researchers have invented various development tools that integrate collaborative features. Unfortunately, most of the available collaborative tools have specialized capabilities, such as source-code editing, and developers face numerous collaboration and communication challenges in working with each other.
This chapter presents the core idea and novel design and implementation techniques for a collaborative integrated software development environment with social networking features. The tool, named Social Collaborative IDE (SCI), enables developers to interact with each other within a 3D virtual world. The research results include solutions to problems associated with providing distributed awareness and presence information. SCI addresses the communication and collaboration needs in a variety of different phases in a team software development process, unifies the concepts of social networking and collaborative Integrated Development Environment (IDE), and integrates presence information and collaborative development tools into a single environment.
The SCI system provides software development communities with social activity, presence, and awareness information of team members, other teams, active projects, and current debugging and coding sessions. It also assists developers to find appropriate assistance from inside the development environment. This chapter covers the technical issues in the design and implementation of SCI.