2012 | OriginalPaper | Buchkapitel
16. Teaching Cartography to Children Through Interactive Media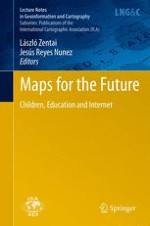 Erstes Kapitel lesen
Autoren: Marli Cigagna Wiefels, Jonas da Costa Sampaio
Verlag: Springer Berlin Heidelberg
Abstract
Computer technology arrives very quickly to schools where young students from the first grades already utilize it for electronic games, for access to internet or for video games, among friends or in family. The proposal to build an interactive media with the basic information about the city of Niterói (State of Rio de Janeiro) was the first step of an activity intended to help geography teachers in their daily work. The municipality of Niterói, located in the State of Rio de Janeiro, has 458.465 inhabitants (2001) and is the scenario of all geographic information provided by this media. The location of UFF in this municipality and the edition of the school Atlas of the municipality of Niterói, implemented during a former university project, constituted the main inspiration for the present project. Students and school children were mobilized for the project and contributed providing information for the media. All begins with a mental map of the schoolchild going to school, with different graphic situations: the street of the school, the school itself, the classroom. It is in these places that all events of the media happen. According to the Brazilian National Programme parameters (Brazilian Ministry of Education (2011) Parâmetros Curriculares Nacional (PCN).
http://​portal.​mec.​gov.​br/​seb/​arquivos/​pdf/​livro01.​pdf
and.
http://​portal.​mec.​gov.​br/​seb/​arquivos/​pdf/​geografia.​pdf
. Accessed 20 June 2011) one should "know how to use different information sources and technological resources in order to build the elements of knowledge". This is very propitious to the introduction of this media in the first grades of the basic school. The building of mental maps, the understanding of photographic images, orientation, environment and the graphical recognition of objects are the main themes treated in the media. In the present project, school and graphic cartography provide the young pupils with a material which stimulates them to learn and with recreational activities which strengthen their liking for geography and cartography. At the end of the project, the media will be open to public on the university web site and dissemination seminars will be provided to school teachers of the municipality.