01.04.2013 | Ausgabe 2/2013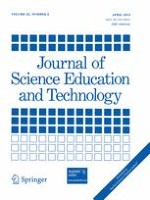 Teaching Design in Middle-School: Instructors' Concerns and Scaffolding Strategies
Zeitschrift:
Autoren:

Yael M. Bamberger, Clara S. Cahill
Abstract
This study deals with engineering education in the middle-school level. Its focus is instructors' concerns in teaching design, as well as scaffolding strategies that can help teachers deal with these concerns. Through participatory action research, nine instructors engaged in a process of development and instruction of a curriculum about energy along with engineering design. A 50-h curriculum was piloted during a summer camp for 38 middle-school students. Data was collected through instructors' materials: observation field notes, daily reflections and post-camp discussions. In addition, students' artifacts and planning graphical models were collected in order to explore how instructors' concerns were aligned with students' learning. Findings indicate three main tensions that reflect instructors' main concerns: how to provide sufficient scaffolding yet encourage creativity, how to scaffold hands-on experiences that promote mindful planning, and how to scaffold students' modeling practices. Pedagogical strategies for teaching design that developed through this work are described, as well as the ways they address the National Research Council (A framework for K-12 science education: practices, crosscutting concepts, and core ideas. National Academies Press, Washington, DC,
2011
) core ideas of engineering education and the International Technological Literacy standards (ITEA in Standards for technological literacy, 3rd edn. International Technology education Association, Reston, VA,
2007
).