2013 | OriginalPaper | Buchkapitel
5. Teaching Old Disciplines New Tricks: Sustainable Engineering Education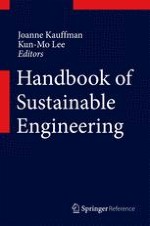 Erstes Kapitel lesen
Autoren: Ms Carolyn S. Mattick, Prof. Founding Director Braden R. Allenby
Verlag: Springer Netherlands
Abstract
Engineering as a profession unquestionably contributes to the welfare of humanity, yet it is becoming more and more evident that the standard engineering curriculum, a product of the post-World War II era, is no longer optimal for the globally competitive, entrepreneurial firms of the knowledge economy. Further, as engineered systems become more widespread and increasingly coupled with cultural and natural systems, the impacts of new technologies become more unpredictable. Engineering in such a complex and rapidly changing environment requires engineers that are increasingly sophisticated with respect to the challenges of sustainability and complex adaptive systems. Thus, an educational system appropriate for the Anthropocene (the "Age of the Human") is one that builds adaptive capacity into the curriculum itself as well as its graduates. This chapter suggests that a framework – a sustainable engineering method – might facilitate the evolution of engineering education and constitute a structure for imparting competencies to students that will prove valuable and relevant in the twenty-first century. Though it cannot address all issues surrounding engineering education and is therefore not a comprehensive solution, it is meant to serve as a reference for educators as they conscientiously design each curriculum to meet the needs of students, their future employers, and the world at large.
It is not the strongest of the species that survives, nor the most intelligent that survives. It is the one that is the most adaptable to change.

Nothing is permanent except change.
Engineering is a powerful societal force. As engineers conceive and create the built environment, they inevitably influence social and environmental change. However, a number of groups and individuals have recently expressed concern that engineers do not sufficiently understand the context and implications of their work and that both engineering practice and engineering education have failed to adapt to the needs of a world that is growing in both population and complexity (National Academy of Engineering 2005).
In this chapter, it is not assumed that engineering and its curriculum are failing or need to be "fixed" in any way. On the contrary, modern life in developed economies provides daily reminders that engineers are competent and responsible: Aircraft take off and land safely; potable drinking water is readily available; communication networks are fast and reliable. Engineering is among the somewhat unfortunate professions that go unnoticed if done well. Attention is paid to it primarily when mistakes are made – or when the public becomes disillusioned with the products (or unintended consequences) of engineered systems.
That said, while engineering and its professional preparation may be adequate for the moment (though some dispute this), there is always room for improvement. The goals and paths to improvement are often elusive, however, and that is the topic of this chapter. Hence it will provide an overview of some of the criticisms of existing curricula followed by a discussion of calls for more sustainable engineering practice. Throughout the text, a single framework – a sustainable engineering method – will be offered as an example of one possible path toward a curriculum that meets the needs of a complex and changing world. The goal of this engineering method is to instill several competencies in students, which will be discussed below. Ultimately, the framework remains one of many possible solutions and is itself merely a preliminary concept. Moreover, the focus on incremental improvement presented in this chapter does not obviate the possibility that radical rethinking of engineering education may be necessary and desirable (Allenby 2011).