2018 | OriginalPaper | Buchkapitel Open Access
Technical and Organizational Agile Practices: A Latin-American Survey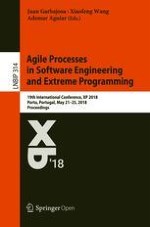 Autoren: Nicolás Paez, Diego Fontdevila, Fernando Gainey, Alejandro Oliveros
Abstract
Background:
Agile Software Development is widely used nowadays and to measure its real usage we need to analyze how its practices are used. These practices have been categorized by several authors and some practitioners have suggested that technical practices have a lower usage level than organizational practices.
Objective:
In this study we aim to understand the actual usage of technical and organizational agile practices in the Latin-American Agile community.
Method:
We conducted a three-stage survey in conferences of the Latin-American Agile Community.
Results:
Organizational practices are much more used than technical ones. The number of practices used is a direct function of organization experience using agile. The difference between technical and organizational practices reduces with the experience of the organization using agile. Team size and project duration seem to have no effect in the number of practices used.