2015 | OriginalPaper | Buchkapitel
6. Techno-economic Analysis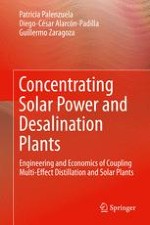 Erstes Kapitel lesen
Autoren: Patricia Palenzuela, Diego-César Alarcón-Padilla, Guillermo Zaragoza
Abstract
This chapter describes a steady-state sensitivity analysis based on a design point, considering each of the four configurations proposed in Chap.
5
. This approach deals with a simulation-based analysis that allows estimation of overall efficiency over a wide range of boundary conditions to determine which cogeneration system is the most optimal in terms of capital cost (overall efficiency is directly related to the solar field size required). The analysis was performed for the three existing cooling technologies: once-through, evaporative water cooling and dry air cooling (except for the case in which a low-temperature (LT) multi-effect distillation (MED) unit replaces the condenser in the parabolic-trough concentrating solar power [PT-CSP] plant). The specific electric consumption (SEC) and the exhaust steam temperature were taken as inputs to be varied for a wide range of conditions that cover all the locations between the Mediterranean basin and the Arabian Gulf and match the three cooling systems considered. The simulations were carried out using the models described in Chaps.
3
,
4
and
5
. The study evaluated in which cases the PT-CSP + MED configurations are more efficient than the PT-CSP + RO configuration. Note that the results given in this chapter are valid only for parabolic-trough solar technology; thus, they could change for a different solar technology. Finally, a detailed techno-economic analysis is described for two representative locations in the Mediterranean basin and the Arabian Gulf, with the aim of determining the most suitable configuration and refrigeration system in each location. Specific operating conditions were established for each location, based on similar studies and information from real plants.