01.08.2014 | Original Article | Ausgabe 3/2014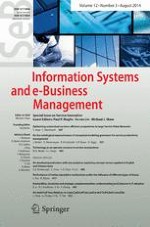 Technology as an operant resource in service (eco)systems
Zeitschrift:
Autoren:

Melissa Archpru Akaka, Stephen L. Vargo
Abstract
In this paper, we explore the role and scope of technology in value co-creation, service innovation and service systems—value co-creation configurations of people technology and value propositions (Maglio and Spohrer in J Acad Mark Sci 36:18–20,
2008
). We draw on a structurational model of technology (Orlikowsky in Organ Sci 3(3):398–427,
1992
) to provide a framework for considering the role of technology in service systems and how it influences and is influenced by human actions (i.e., practices) and institutions. We broaden the scope of technology in this model, beyond a material artifact, or outcome of human actions, by applying an S-D logic, service ecosystems (Vargo and Lusch in J Market 68(1):1–17,
2004
, Ind Mark Manag 40(2):181–187,
2011a
) approach, which focuses on the processes by which value is co-created and new ways of creating value (i.e., innovation) emerge. In this view, technology can be conceptualized as an operant resource—one that is capable of acting on other resources to create value—and, thus, becomes a critical resource for value co-creation, service innovation and systems (re)formation. We argue that the consideration of technology as an operant resource in service (eco)systems provides a more encompassing view for systematically studying the way in which technologies are integrated as resources, value is collaboratively created, and service is innovated.