16.07.2016 | Ausgabe 1/2018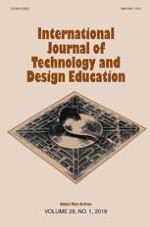 Technology education in preschool: providing opportunities for children to use artifacts and to create
Autoren:

Pernilla Sundqvist, Tor Nilsson
Abstract
In recent years, technology has been emphasized as an important area in early childhood curricula; however, in many countries preschool does not have the tradition of teaching specific subjects, and research shows that many preschool staff members are unsure about what teaching technology should include and how it should be taught. Therefore, with the ambition of outlining recommendations for both preschool practice and the preschool-teacher program, we investigated what elements staff members include in educating preschool children in technology. We investigated the research question
What do preschool staff members include as elements of technology education in preschool?
through open-ended items on a questionnaire completed by 102 preschool teachers and daycare attendants in Sweden. The answers were analyzed inductively, resulting in a set of seven categories:
Artifacts and systems in children's environments, Create, Problem solving, The concept of technology, Experiments, Techniques/Motor skills
, and
Natural science
. Some key results emerged. First, artifacts have a central place in preschool technology education, and at least three verbs relate to how these artifacts are addressed:
use
,
create
, and
understand
. Second, the content of technology education in government regulatory documents is described to varying extents by the participants, and sometimes not at all. Third, expected elements like play and the important role of the staff are not expressed in the answers. Possible explanations and implications for the results are discussed.