30.03.2017 | Long Paper | Ausgabe 1/2018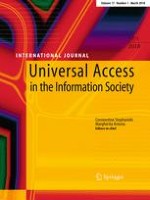 Technology-enhanced ABA intervention in children with autism: a pilot study
Zeitschrift:
Autoren:

Silvia Artoni, Luca Bastiani, Maria Claudia Buzzi, Marina Buzzi, Olivia Curzio, Susanna Pelagatti, Caterina Senette
Abstract
This study investigates whether ICT technology can enhance applied behavior analysis (ABA) rehabilitation therapy for children with autism. A technology-enhanced rehabilitation system to support the daily work of ABA tutors, parents and teachers was created, involving ABA experts and parents of autistic children in the entire design phase, in order to better understand the system's functional requirements and enhance its usability. Thus, combining the ABA programs with a learning analytics tool, an open-source Web application , ABCD SW, was implemented for teaching and monitoring learning in low-functioning autistic children. In a small pilot study the system was tested on seven children with autism enrolled in an intensive intervention lasting 9 months. The children were assessed before and after the pilot test, using Vineland Adaptive Behavior Scales to measure their personal and social skills. Test participants showed improved communication, especially in the expressive category (
p
< 0.05). Subjective feedback from the ABA team involved in the user test confirmed the children's improvement in socialization, communication and behavior. ABCD SW expedites the intervention (thus increasing its efficiency) and makes it more pleasant for the children. Furthermore, ABCD SW enables caregivers to easily conduct and personalize the intervention, reducing its cost. The study seems to suggest that ABCD SW, and ICT technology in general, can enhance ABA rehabilitation therapy for children with autism, encouraging further investigation of this promising research field.