01.07.2019 | Metals & corrosion | Ausgabe 19/2019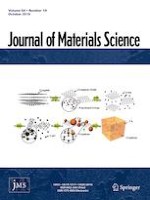 Temperature and humidity effects on microstructure and mechanical properties of an environmentally friendly Sn–Ag–Cu material
Zeitschrift:
Autoren:

Asit Kumar Gain, Liangchi Zhang
Wichtige Hinweise
Publisher's Note
Springer Nature remains neutral with regard to jurisdictional claims in published maps and institutional affiliations.
Abstract
This paper describes the effect of temperature (85 °C) and relative humidity (RH) (85%) on structure and material properties of an environmental-friendly Sn–3.0Ag–0.5Cu, in wt.% (SAC305) material. A detail microstructure characterization was performed by scanning electron microscope with EDS analysis, X-ray diffraction, electron backscattered diffraction and transmission electron microscope techniques. From this structural analysis, it is evident that in the as-cast alloy, submicron-sized acicular and spherical-shaped
ε
-Ag
3
Sn and very fine η-Cu
6
Sn
5
intermetallic compound (IMC) particles are homogeneously distributed in fine β-Sn matrix grains. However, after exposing SAC305 alloy to 85 °C and 85% RH for 60 days, the coarsening of its microstructure was observed changing significantly the morphology (size and shape) of the IMCs as well as of the Sn matrix. The Sn matrix grains size (in diameter) in as-cast alloy ranges within 20–30 µm, while after heat treatment an increase in size of 35–45 µm was observed. Furthermore, the ε-Ag
3
Sn IMC particles appeared with coarse structure. Therefore, the mechanical properties of SAC305 material turned inferior that confirmed by electrical resistivity and mechanical properties measurements. The electrical resistivity and microhardness values were reduced by about 11.2% and 22%, respectively, with respect to the corresponding values of the reference alloy (as-cast alloy). However, the heat-treatment method enhanced the damping properties of SAC305 material.