01.02.2020 | Ausgabe 2/2020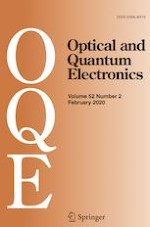 Temperature dependence of current–voltage and carrier lifetime characteristics in InGaN blue light-emitting diode
Zeitschrift:
Autoren:

Pradip Dalapati, Nabin Baran Manik, Asok Nath Basu
Wichtige Hinweise
Publisher's Note
Springer Nature remains neutral with regard to jurisdictional claims in published maps and institutional affiliations.
Abstract
In this report, we have measured current–voltage (I–V) and carrier lifetime characteristics of an InGaN-based commercial blue light-emitting diode in a temperature range from 350 to 110 K. Two distinctly different current domains, namely, region I and region II have been identified in I–V dependence. I–V data for region I have been used for the evaluation of ideality factor which varies from 1.478 to 3.932 when the temperature changes from 350 to 110 K. We have also investigated how far the existing models account for our experimental results. From an analysis of the Arrhenius plot of I–V–T curves in terms of the model due to Hirsch and Barriere it is found that the domains are distinguished by current transport mechanisms governed by hole thermionic emission and hole tunneling which are discussed in detail. Next, estimating the data on voltage gradient obtained from the open circuit voltage decay method, as well as those of ideality factor from the I–V measurement, the temperature dependence of carrier lifetime has been evaluated. A logarithmic plot of carrier lifetime as a function of inverse temperature shows a weak temperature-dependence below 228 K and this region gives important information regarding the dominant energy level of traps assisting tunneling of current carriers in the device.