01.03.2015 | Original Contribution | Ausgabe 3/2015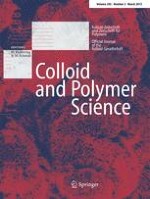 Temperature-responsive copolymer brush constructed on a silica microparticle by atom transfer radical polymerization
Zeitschrift:
Autoren:

Kouji Nomura, Hirokazu Makino, Tadashi Nakaji-Hirabayashi, Hiromi Kitano, Kohji Ohno
Abstract
A polymer, poly(2-(2-methoxyethoxy)ethyl methacrylate) (PMDM), was accumulated on a silica microparticle by surface-initiated atom transfer radical polymerization (ATRP). The hydrodynamic diameter of the polymer-grafted silica particle (PMDM-SiP) dispersed in water was observed to decrease above 24 °C, which could be ascribed to a coil-globule transition of PMDM chains. This is in accordance with the increase in turbidity of an aqueous solution of free PMDM, which was produced parallel in liquid phase at the ATRP, above 23 °C. The lower critical solution temperature (LCST), defined as the temperature at which the absorbance reached the optical density of 0.30, was 27.6 °C for free PMDM. An introduction of zwitterionic vinyl monomer, carboxymethylbetaine (CMB), into both a polymer brush and a free polymer (P(MDM-
r
-CMB)) raised the LCST. In addition, the hydrodynamic diameter (
D
h
) of the polymer-modified particles was not affected by the presence of NaBr nor lysozyme at 15 °C, whereas it was largely affected at 35 °C due to the decrease in hydrophilicity of the polymer graft chain above the LCST. In contrast, bovine serum albumin did not affect the
D
h
value of the polymer-modified particles both below and above the LCST. The usefulness of the PMDM brush having CMB as a comonomer in the biomedical field was suggested.