01.06.2015 | Original Paper | Ausgabe 11/2015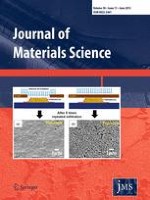 Template-assisted synthesis of core–shell
α

-Fe2O3@TiO2 nanorods and their photocatalytic property
Zeitschrift:
Autoren:

Ming Chen, Xiao Shen, Qianhui Wu, Wei Li, Guowang Diao
Abstract
Novel core–shell α-Fe
2
O
3
@TiO
2
composites were synthesized using
α
-FeOOH nanorods as hard template via a facile hydrothermal process. The as-prepared
α
-Fe
2
O
3
@TiO
2
composites were characterized by transmission electron microscopy, scanning electron microscopy, and X-ray powder diffraction. The effects of various experimental parameters, including thickness of TiO
2
coating and calcination temperature on the morphologies of the resulted products, were systematically investigated. Then, the photocatalytic degradation Rhodamine B (RhB) is chosen as a model reaction to evaluate the catalytic performance of the as-prepared
α
-Fe
2
O
3
@TiO
2
composites. The results confirmed that the present core–shell
α
-Fe
2
O
3
@TiO
2
composite nanorods exhibit the efficient optical response and the photocatalytic activity from the ultraviolet to the visible region. The thickness and crystal structure of TiO
2
affect the photocatalytic activity. The proposed synthesis strategy might provide a facile and effective method for developing noble semiconductors core–shell architecture nanocomposites.