01.06.2011 | Ausgabe 11/2011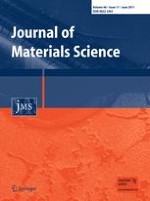 Templated synthesis of mesoporous aluminas by
graft

copolymer and their CO2 adsorption capacities
Zeitschrift:
Autoren:

Harim Jeon, Sung Hoon Ahn, Jong Hak Kim, Yoon Jae Min, Ki Bong Lee
Abstract
Mesoporous aluminas were synthesized via a sol–gel process by templating an amphiphilic
graft
copolymer, PVC–
g
–POEM, consisting of a poly(vinyl chloride) (PVC) backbone and poly(oxyethylene methacrylate) (POEM) side chains. The mesoporous structures of aluminas with large surface areas were confirmed by X-ray diffraction, transmission electron microscopy, and nitrogen adsorption/desorption analysis. Aluminas synthesized with PVC–
g
–POEM
graft
copolymer exhibited higher CO
2
adsorption capacities (0.7 mol CO
2
/kg sorbent) than aluminas synthesized without
graft
copolymer (0.6 mol CO
2
/kg sorbent). The adsorption capacity of alumina strongly depends on its structure and calcination temperature; amorphous (400 °C) > γ phase (800 °C) > α phase (1000 °C).