2019 | OriginalPaper | Buchkapitel
Temporal Mount in Air Pollutants Allied with Religious Fiesta: Diwali, Festival of Lights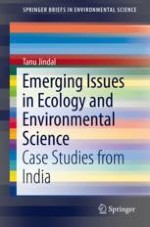 Erstes Kapitel lesen
Autoren: Abhinav Garg, Priyanka Sharma, Gufran Beig, Chirashree Ghosh
Abstract
India being a secular country is bound by many religious and cultural activities. Diwali or Deepawali is one of the major festivals which is celebrated with great heartiness by bursting firecrackers (both aerial and land). "Firework displays in Delhi, the capital of India, are known to be grand and extensive, perhaps owing to the relative affluence of the city's population" (Sarkar et al.
2010
). Fireworks are one of the most unusual sources of anthropogenic pollution in atmosphere; although short-lived, these events are responsible for high concentrations of particles and gases in the atmosphere. To recognize the severity of such episodes on air quality, we undertook a study analyzing the pollutant data the day before, on the eve of Diwali, and the day after the fiesta, for 6 consecutive years, 2010–2015. Further, we compare the results by taking a reference month, the month before the celebration. Pollutant data for particulate matter (PM
10
and PM
2.5
), nitrogen dioxide (NO
2
), and ozone (O
3
) was collected from real-time SAFAR (MoES) monitoring station installed at Sports Stadium, University of Delhi, Delhi. To understand the health impacts and dispersion of pollutants, AQHI and Hysplit model was also computed. On average on the day of the festival the concentration of PM
10
and PM
2.5
was found to be 6.5 and 6.8 times higher respectively in comparison to permissible limit over period of 6 years. Similarly, NO
2
and O
3
were found crossing the permissible limit by 1.6 and 1.2 times in the year 2013. Interestingly, in the year 2011 and 2014 restricted dispersion was observed, with winds moving back towards Delhi, which might have had a role in concentrating the pollution. The short-term exposure of these pollutants beyond the permissible limits can increase the probability of acute health effects, especially for the vulnerable group of population. Therefore, it is of utmost necessity to monitor the outburst of pollution during such events. Although regulating or restricting the festival would be socially unacceptable, adapting to cleaner, more environmental friendly ways to celebrate the festival is the need of the hour.