01.07.2013 | Ausgabe 1/2013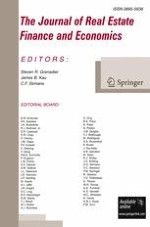 Testing for Fraud in the Residential Mortgage Market: How Much Did Early-Payment-Defaults Overpay for Housing?
Zeitschrift:
Autor:

Paul E. Carrillo
Wichtige Hinweise
This paper was previously circulated under the title: "Fools or Crooks: Testing for Fraud in the Housing Market." The author is grateful to Anthony Yezer for his comments and encouragement to complete this project. He would also like to thank Bryan Boulier, Andrew Cohen, Ed Coulson, Mike Frantantoni, Donald Parsons, Christina Rennhoff, Mark Schroder, Tara Sinclair, Bob Van Order and Sriram Villupuram for useful comments and discussions. The paper has also benefited from discussions at the AREUEA 2010 Midyear Conference and at the Academic Symposium: "Housing and the Credit Crunch" presented by The Center for Real Estate Entrepreneurship, George Mason University and The George Washington University School of Business' Center for Real Estate and Urban Analysis in May 2010. The author is solely responsible for any errors.
Abstract
Current explanations for the high rate of default and foreclosure in the U.S. emphasize house price fluctuations and lax lending criteria. Another explanation for default and foreclosure, which has generally been neglected in the academic literature but not by the FBI, is fraud. One impediment to identifying and measuring fraud is the lack of statistical tests capable of detecting it. This paper proposes a simple method to detect transactions where fraud may have occurred. The models proposed here are important for at least three reasons. First they can document the role of fraud in the mortgage foreclosure crisis. Second, they can serve as part of a forensic effort designed to detect and deter mortgage fraud. Third, they demonstrate that mortgage fraud distorts house price indexes because it artificially elevates house prices during the period of fraud followed by a subsequent collapse due to the foreclosure sales. Accordingly, fraud can give the false impression that foreclosure lowers area house prices when it actually artificially inflates them. This suggests an alternative interpretation for the recent empirical literature on externalities from foreclosure.