2014 | OriginalPaper | Buchkapitel
74. Tetrandrine Inhibits Proteasomal Chymotrypsin-Like Activity and Induces Apoptosis in Human PC-3 Cells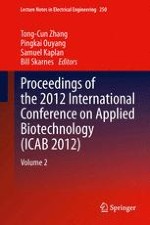 Erstes Kapitel lesen
Autoren: Li Zhang, Wanxin Shi, Weihua Cao, Xiangru Liang, Yufu Hu, Mo Chen, Guoqing Shi
Verlag: Springer Berlin Heidelberg
Abstract
The ubiquitin-proteasome pathway has been accepted as a promising target for cancer therapy, as it plays a vital role in cell cycle, function, and survival. In this research,
in silico
study by molecular docking predicted that Tetrandrine(TET), a compound from the roots of
Stephenia tetrandra S
Moore, could bind to the active site of the proteasome β5 subunit. In vitro assay proved that TET inhibits the chymotrypsin-like (CT) activity of purified human 20S proteasome in a dose-dependent manner with IC
50
of 0.8 μmol/L. After exposed to TET for 24 h, the CT activity in human prostate cancer PC-3 cells was inhibited with IC
50
of 35 μmol/L, and the ubiquited proteins were accumulated in dose-dependent manner. This inhibition was further proved by the accumulation of GFP-CL proteins, which is an indicator of proteasome inhibition in pEGFP-CL1 transferred PC-3 cells. The proteasomal activity inhibition by TET leads to apoptosis like morphological changes and activation of caspase-3 activity in dose-dependent manner in PC-3 cells. Based on these results, we suppose that TET is a proteasome inhibitor and induces cell apoptosis.