2016 | OriginalPaper | Buchkapitel
The 1997 Measles Outbreak in Metropolitan São Paulo, Brazil: Strategic Implications of Increasing Urbanization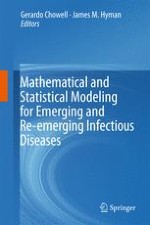 Erstes Kapitel lesen
Autoren: José Cassio de Moraes, Maria Claudia Corrêa Camargo, Maria Lúcia Rocha de Mello, Bradley S. Hersh, John W. Glasser
Abstract
Background
: Despite a routine two-dose measles vaccination program, mass campaigns in 1987 and 1992 and low subsequent incidence, São Paulo experienced an outbreak between May and October of 1997 with over 42,000 confirmed cases, mostly young adults, and 42 measles-associated deaths, mostly infants. To eliminate measles, the Pan American Health Organization (PAHO) recommended supplementing routine childhood vaccination (keep-up) via mass campaigns, initially to reduce (catch-up) and periodically to maintain (follow-up) susceptible numbers below the epidemic threshold.
Methods
: To determine if a follow-up campaign during 1996, when due in São Paulo State, might have prevented or mitigated this outbreak, we modeled measles in metropolitan São Paulo. We also evaluated the actual impact of emergency outbreak-control efforts and hypothetical impact of vaccinating adolescent and young adult immigrants.
Results
: A mass campaign targeting children aged 6–59 months reduced cases as much as 77 %, but a follow-up campaign among children aged 1–4 years during 1996 might have been even more effective. Susceptible adolescents would have escaped, however, setting the stage for future outbreaks. Vaccinating people in the immigrant age range mitigated this potential.
Conclusions
: As the immunity required to prevent outbreaks depends on population density, rural people are less likely to be immune than urban ones the same age. Thus, when there is rural-urban migration, births are not the sole demographic process eroding urban population immunity. Vaccinating immigrants in bus stations, peripheral shantytowns, or sites of employment for unskilled laborers is more efficient than increasing rural immunity.