2015 | Online First | Buchkapitel
The A10 Gravimeter Total Uncertainty Budget Estimation: A Case Study Using the A10-020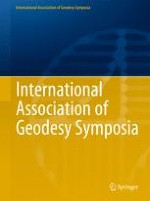 Autoren: P. Dykowski, J. Krynski, M. Sękowski
Abstract
A10 absolute gravimeters are in active use for more than 10 years. This type of gravimeter has proven to be a very efficient tool for absolute gravity determinations, both in field and in laboratory conditions. In order to get full assessment of the gravimeter performance, study on the total uncertainty budget is required. It is especially important when the gravity determinations with the A10 are to be compared with gravity determinations using other types of absolute gravimeters, e.g. during absolute gravimeter comparison campaigns such as ICAG, ECAG or other similar local surveys. With the uncertainty estimated, the reliability of the A10 gravimeter required for gravity control establishment can further be evaluated.
Uncertainty budget components provided by the manufacturer need to be revised in order to estimate the experimental uncertainty of gravity determinations with the A10. The budget itself can be divided into three main components: correction/reduction models, instrument related issues, and statistical uncertainty.
As the A10 gravimeter is used in laboratory and field conditions two uncertainty estimates were considered. In addition, the sensitivity of the A10 gravimeter with respect to local hydrology has been discussed.
Studies and estimates were performed based on numerous surveys with the A10-020 on the stations of the gravity control in Poland. The most interesting material comes from the repeated regular absolute gravity determinations with the A10-020 at three stations in Borowa Gora Geodetic-Geophysical Observatory. Additional information is provided by absolute gravimeter comparison campaigns and calibrations of metrological parameters performed from October 2008.